Fill in the blanks about your senior year. The longer ago it was the better.
My senior portrait: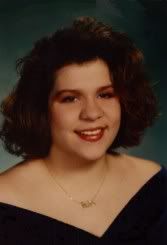 1. Who was your best friend?
Same one I have now: Maria. Also hung out with Robyn and Christine

2. What sports did you play?
Unless Tonsil Hockey counts, none. I was the Editor in Chief of the school paper, the Art Editor of the yearbook, a member of the academic Challenge team (competed on a televised quiz show) and I think that's it. Can we say, "Huge Geek."
3. What kind of car did you drive?
I drove my mom's gold 87 Cavalier.
4. Its Friday night, where were you at?
In my boyfriend's living room.
5. Were you a party animal?
Not so much during senior year. The summers I spent in Spain, yes.
6. Were you considered a flirt?
Very much so.
7. Ever skip school?
A couple times, I think.
8. Ever smoke?
No interest in it whatsoever
9. Were you a nerd?
I went to an all-girls Catholic high school. We didn't really have "nerds" in the traditional sense. We had overachievers. I was one of those.
10. Did you get suspended/expelled?
No-- I would not face the wrath of my mother should such a thing have occurred.
11. Can you sing the Alma Mater?
From these halls of truth and knowledge, guide us on our way we pray
Mother Seton, lead thy daughters, let us never be dismayed
If we wander, as we journey, shine thy light so we made see
Walk beside us, gently guide us and ever help us find our way.
12. Who was your favorite teacher?
Mrs. Butler, the English teacher I had for 3 out of 4 years was awesome. As was my World History and US History 1 teacher, Mrs. Campos.
13. Favorite class?
English- hands down.
14. What was your school's full name?
Mother Seton Regional High School
15. School mascot?
Officially it was the Seton Setters. A dog. How wrong is it to have a dog as the mascot for an all girls school?
16. Did you go to the Prom?
I was the co-chairwoman of the Junior Prom (and of course, I attended) and was on the prom committee for Senior Prom. Attended both with my high school sweetheart (asshole) Brian. I just found the pictures yesterday!
17. If you could go back and do it over, would you?
I think so. I wish that I would have not gotten so wrapped up in having a boyfriend and done more with my girl friends.
18. What do you remember most about graduation?
That we weren't allowed to wear clothes underneath the graduation gowns. They were white and owned by the school and for some reason, you were only allowed to wear hose and a slip underneath it. Probably a good thing since graduation was outside and it was crazy hot.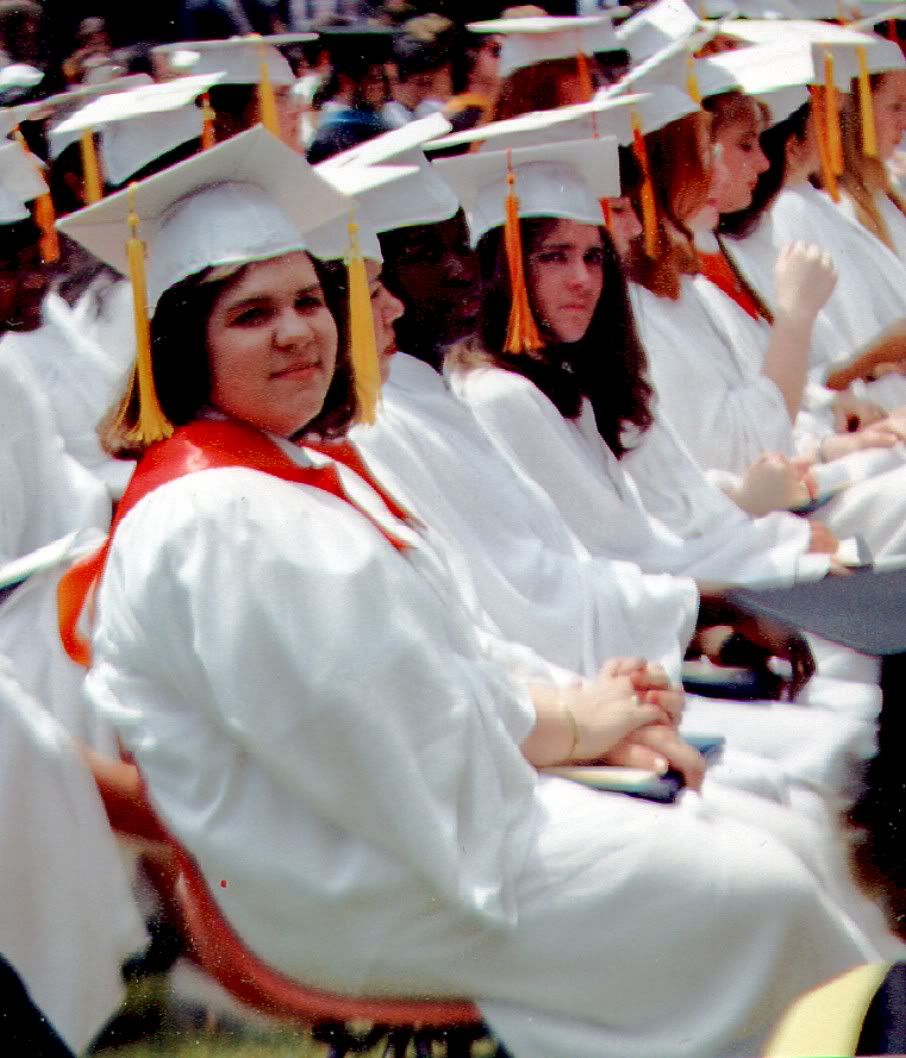 19. Favorite memory of your senior year?
Probably the social studies trip to Washington DC. By the time we were headed back to NJ everyone was exhausted. We were watching Benny & Joon on the bus and at the end of the movie there was the video for that Proclaimers song, 500 miles. The bus spontaneously broke out into song. Maybe you had to be there.
20. Were you ever posted up on the senior wall?
What is a senior wall?
21. Did you have a job your senior year?
I did data entry at night for a local trucking company: New Penn Motor Express.
22. Who did you date?
Brian Giampetruzzi
23. Where did you go most often for lunch?
We weren't allowed to leave the cafeteria/school building.
24. Have you gained weight since then?
Yeah...haven't we all?
25. What did you do after graduation?
Four days after graduation I had surgery to remove hardware from my ankle. I spent the summer in a cast, on crutches. Oh, and I cut all my hair off.
26. When did you graduate?
Class of 1994.
Current Mood:

hungry