The brakes in my minivan were not working correctly. Wayne replaced the pads and rotors-- it's not as hard as you'd think-- but he noted that at least one of the calipers were bad. The calipers are the part that pinches the brake pads to make the car stop. He also knew that the van needed brake fluid and to be bled.

On Friday, I called Sears Automotive and explained the story and asked if they did that kind of work and if I could bring it the van. They said yes and I was there at 11 am. The guy said that it could take a few hours. Since I had Joey with me and no way of getting home, we hung out in the waiting room for a little while and then went to lunch at Ruby Tuesday, across the parking lot. In the meantime, my cell phone battery ran out.

Joey and I walked back to Sears around 2 pm and settled back in to the dinky waiting room when the desk guy came in and said that they ordered the wrong part for our van. He said that the Chrysler Town & Country has two different braking systems and mine has the second kind.
He said that they couldn't put the van back together and let me drive home in it because the brakes would fail and they'd have liability so I had to call someone to come pick Joey and I up. Remember that my cell phone battery died. I don't know any phone numbers for local friends because they're programmed in my phone. The only phone number I know is Wayne's. Wayne was at work in Harrisburg and was supposed to pick up the kids in Hanover.

For a better look at things, here's a map...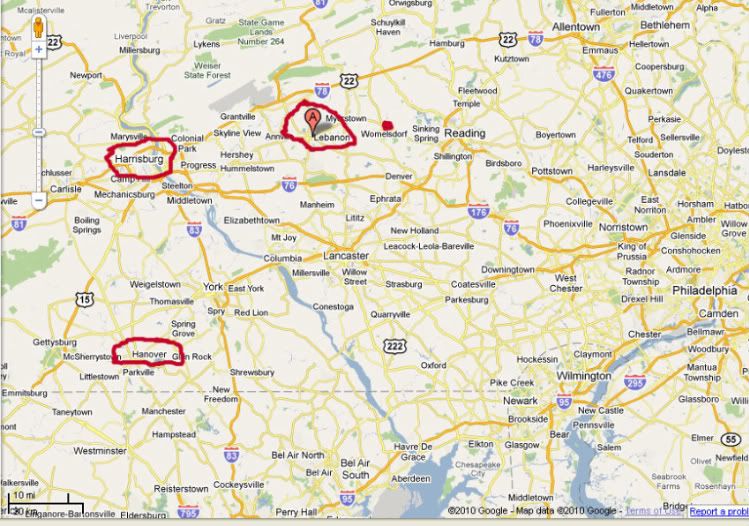 We live where the red dot is... it takes about half an hour to get to where the car was being fixed in Lebanon. Because of that distance, no one at Sears would give Joey and I a ride home. So I called Wayne, in Harrisburg, about 45 minutes to an hour away and he left work early (time for which he will not be paid) and he came to pick us up and take us home in time to meet Andy at the bus stop. But he was supposed to pick up Lexi and Nathan in Hanover, circled in red in the lower left. It's about 2 hours to Hanover from our house, only an hour or so from where Wayne was in Harrisburg.

I was supposed to be dropping my boys off to Steve. His town is just off the map to the east, an hour and a half from home.

So Wayne picked me up and I called Steve to tell him I couldn't bring the boys out. He's been sick and Rachel has been sick so we agreed to talk in the morning on Saturday to see if he could pick the boys up. Wayne called his ex and got her to agree (begrudgingly) to meet him in Columbia, sorta kinda halfway between our house and hers.

Sears assured us the van would be done early Saturday morning.

On Saturday afternoon they told us that they'd gotten the wrong part again and the van would be done around noon on Sunday. In the meantime, Steve came out and picked up the boys.

I had paid to attend a scrapbooking crop on Sunday with some friends I hadn't seen in awhile. Wayne arranged for our friend and neighbor, Maureen, to take him and the kids to the car place on Sunday to get the (presumably) finished van on Sunday afternoon so that I could go to my crop and he would take the kids back to their mom at the halfway point. My crop, btw, was in Fleetwood, northeast of home by about 40 minutes.

Guess what happened? Wayne got to Sears at 5 on Sunday and they said that when the parts came in on Sunday morning, the boxes indicated it was the right part, but when they went to put the calipers on AT FOUR THIRTY, they discovered that the boxes were marked wrong and they had 2 driver's side calipers and no caliper for the passenger side.

I wasn't there, but Wayne said he blew a gasket and chewed the guy out. Said guy had no answer or explanation for what the heck their issues are besides being careless and incompetent. The kids flipped out, thinking they were trapped in Sears and couldn't get to their mom, which was essentially true since Maureen went home.

Wayne called his friend Kevin, who lives in Lebanon, who we hadn't seen or talked to since May and begged Kevin to pick him and the kids up and drive them to Columbia for the exchange and then drive Wayne back home.

Another wrench in the works: I have problems driving at night. My eyes don't adjust quickly enough to dramatic changes in light so I have a very difficult time driving at night. The oncoming headlights on one side of the road make the side I'm driving on completely black. It's scary.

So I left my crop early and drive home, expecting Wayne to be back at 7, 7:15ish, to essentially drive for me to go pick up Andy and Joey out in Philly. Wayne got back around 7:20 and then got paged by work. I forgot to mention that he was on call this weekend. And then he got paged again. And again. At 7:40 I gave up waiting for him and left by myself in Wayne's car. I picked the boys up and drove home. We got home around ten after 11.

It's 11 am now and I've not yet heard from Sears.