Wayne and I had a little getaway to Atlantic City this weekend and we had a blast.

We left Newmanstown around noon on Friday and hit horrible traffic in Philly. What should have been about a 2.5 hour drive, took almost 4 hours. So by the time we checked into our hotel room, we were beat. Still, the lure of the lights and noise of the casino pulled us over to The Borgata.

First things first, it was a little past six in the evening so we went straight to dinner at their amazing buffet where we over-ate to the point of being really uncomfortable. The food was amazing for a buffet.

Wayne had never been to a casino before and he was so cute about trying out the slot machines. We brought only $100 to play with, figuring that when we lost it, we lost it and we'd be okay with that. I thought we'd run through that in about 15 minutes but no, Wayne had 'the touch' or as it is more commonly known "beginner's luck." Homeboy took $20 and turned it into $150 in a matter of minutes-- on the nickel slot machines. I was impressed. We managed to play on that hundred dollars for about 5 hours and only lost $65. We had a blast.

From The Borgata we went over to the boardwalk and watched the people milling around. We each had an ice cream cone before heading back to our hotel room.

Saturday morning we were up bright and early to drive over to Caesars for the Food and Wine Festival event: Guy's Big Bite Brunch. The brunch was scheduled to start at noon and was being held at Phillips Seafood Restaurant at the Pier Shops in Caesars. We bought the tickets months ago without really knowing what to expect. Was Guy Fieri going to be there? Would he walk around to the various tables? Would we be able to get things autographed? We had no idea.

I got to the restaurant by 10 am. Wayne went back to the casino for a little more slot fun. I was the only person waiting there but stragglers kept coming by and asking the hostess about the brunch. She told everyone that the line would probably start forming around 11. I was already waiting. I wanted to be FIRST.

And I was. The line started forming behind me (and Wayne and my mom and my sister) around 11. We found out that he'd be answering questions from attendees and also that everyone could have something signed (if you didn't bring anything with you, there was the event menu) and a professional photographer would be taking photos that would be available on his website for download, for free. They explained that it would be faster that way, than waiting for people to pose and fiddle with their personal cameras. Squeee!!!!

And then we were seated. And then we were seated right next to the table where Guy would be signing and posing. And then Robert Irvine and Melissa D'Arabian showed up! (Ted Allen walked by while my sister and I were waiting and she grabbed him for a photo!) The event was awesome. Guy talked to our table. Wayne and I talked to Robert Irvine (who was so nice and very accommodating!). The food was amazing. We had a great time.

Here's some photos I took:




Our tickets, the menu and our favor. They gave us a big can of Phillips seasoning and a crab mallet that says "Guy's Big Bite Brunch" with the date.




The fam at our table, before the cocktails started coming.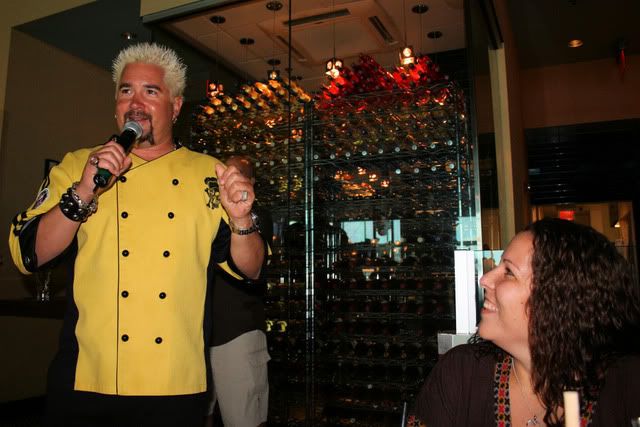 Nela asked him if he likes everything he tastes or what does he do when something is awful. (And I piped in, "like the testicles") He explained that if he mentions a single element of a dish, like, "Wow, I can really taste the cilantro in this," that's a good indication that he doesn't like it or if he only takes a single small bite. He also explained that there have been times where he's had to fight off the producers because he wants to finish what he's got. That's my sister in the picture and the table he sat at is right behind him.




That's me and Robert Irvine from Dinner Impossible. Wayne told him that my boys were at the meal he prepared at Sesame Place last summer.




So Robert Irvine signed my mom's menu (because she brought her Triple D books for Guy to sign) thusly: Andy and Joey: Great to see you at Sesame Place. Keep watching! All the best, Robert Irvine, DI. Look at that smile on my mama's face.





Here's Nela getting her menu signed for my Foobs, because he wants to be a chef.




And here's the menu Guy signed for us!!!


SQUEE!!!!!