I wasn't going to do this but I haven't posted in awhile. My plan was to do a big reveal only after the room was totally finished and I'd had people over to scrap first. But I want to throw some current shots out there and see what you think. Be gentle. Remember that it is an unfinished basement.




This is the plastic wicker screen I got to hide the water heater.




This is the main storage/work area. I need to clean it up and organize a little better. I also need more hooks for the peg board.




Target had these short bookshelves for $16 this week. I painted the back pieces obnoxious pink.




My thinking spot. The chair was $20 from Craigslist. The pillow was $30 on clearance at Pier One. The aqua table was from Ikea. It was white and for the kids but they pretty much destroyed and discarded it. I fixed the broken legs (hot glue!) and spray painted it.




More storage next to the papasan. I got the bamboo mirror at Target on clearance last year (or the year before?) - it was marked down from $129 to $27. It weighs a ton.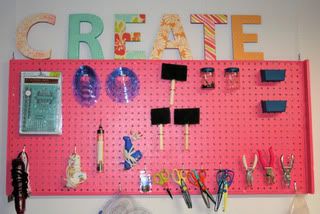 My peg board and chip board letters. I have more stuff to hang. I just need more hooks.

What is left to be done? The entire wall opposite the work area! I need to have a power outlet installed and the wall dry-walled. It's the stairwell supports and it's just open beams and it's ugly. I plan to put a set of wall mounted shelves with refreshment-y stuff there. I found a console table at a yard sale- $20- that will be for snacks and I plan to put a mini fridge underneath it-- hence the need for an outlet.

I also have to figure out how to make curtains for the tiny, high window. It ill soften the space a little and I plan to make drapes that hang to the floor. I think I'll also make some kind of curtain to hide the ugly electrical box.

I'm on the hunt for a brightly colored carpet remnant that will fill a significant portion of the 12x25 foot space.

Lastly, the ceiling. I'm thinking the cheapest option for covering the ugly beams and insulation is to staple large canvas drop cloths to the beams.

Before pictures can be seen here.