I have wanted a room for scrapbooking since I began doing it and learned that such a thing exists. Today, in earnest, I have begun to transform a corner of our unfinished basement into such a space for myself, a creative haven where I can start my millions of projects and leave them sitting out even if I'm not quite done with them until I can go back to them again.

Our basement is divided up kind of strangely. The stairs go down about 1/4 of the way into the space. The small area behind the stairs is going to be my room. This space has our water heater in it on one side and the electrical panel on the wall. The other side is the staircase and the furnace. There is a small window, high up on one wall. It's gray and kinda cold. The kids have had free reign down there so there are toys EVERYWHERE. I need to do some straightening up.

I have some furniture that is going to live in this space. A dresser from Wayne's parents that is from some point in the 70s. It's kinda ugly, but I have plans for it. Oh yes, I do. I have the old cheap, crappy hutch from my kitchen in New Jersey. I have Wayne's old wooden table. I have plans to put together a "refreshment station." I bought a papasan chair from someone on Craigslist that I have to go pick up tonight.

Step 1 is going to be painting the concrete walls with moisture-lock paint. White. It should brighten up the space dramatically.

And since every good project needs a "before" shot, here are mine.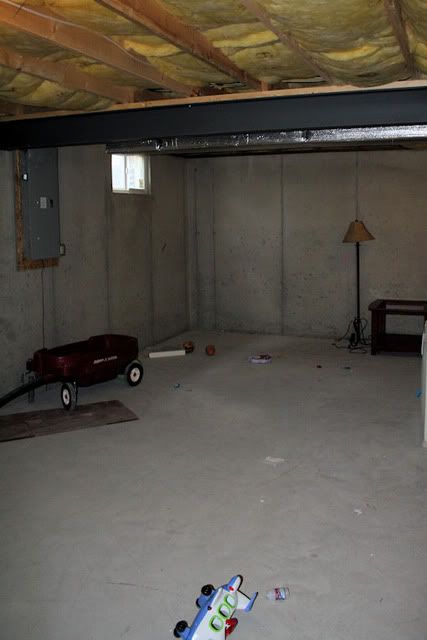 So what's the plan? After the walls are painted, I'm having a few more power outlets installed. Right now there is one. Yes, one. that's not going to work. I'm going to change out the two single, bare-bulb light fixtures for some fluorescent lighting. Nice and super bright. Then, Wayne and I are going to put drywall over those bare beams under the staircase. It shouldn't be more than 4 panels of moisture-proof, mold-proof drywall.

I'm going to paint the furniture I have for the room black with seriously bold, bright accents. Think tropical. Bright pink, orange, lime green, yellow.