I vaguely had this idea in my head, when I said I'd put up the Christmas trees at Andy's school, that it would be like putting up Christmas trees at home. Where everything is stored neatly and is kept dust free and is just the way I like it and that it would take, at most, a couple of hours.

Yeah, not so much.

Wayne and I brought the kids over to the school yesterday after school and got to work getting everything down from the PTF loft above the stage. This involved going up one of those rickety attic pull-down ladder things that comes down right about another set of stairs going down. So if it were to crash down into a pile of rubble, I wouldn't just fall ten feet, I'd fall 20. Oh, and to top it off, the rickety stairs aren't quite tall enough so at the top of the ladder is another set of 3 stairs made of 2x4s to get you actually up into the loft. I really need to take a picture of that death trap.

Once up there I found SIX Christmas trees and a mountain of blue and gold plastic ornaments, you know, school colors. Five green trees and one white. I figured the white one should go in the lobby. I made a bunch of paper ornaments with my Cricut and stickles glitter. I need to go in today and put something on top of the tree but here's how I left it last night.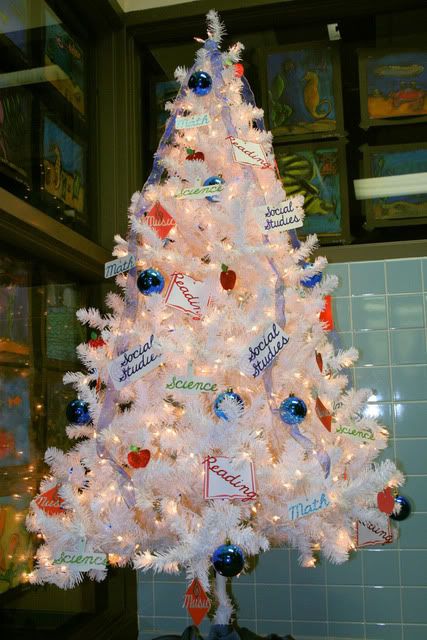 Cute?

The other five trees were in various states of dusty and beat up. We were there for almost four hours last night trying to straighten them out and put them together. I was all set to cover the suckers in ornaments but all of the gold and blue plastic ones were missing that piece at the top, that little metal piece that holds the little loop you hook the hook on. The crownie thing? So I didn't put any ornaments on those trees. I emailed the PTF president and she said the person who did it last year had this way of winding the ornaments into the back branches? I'm skeptical but she's going to show me how to do it this afternoon. Yay! More time at the school.