A few of them, at least. There are 28 covered bridges in Lancaster County, PA. Pennsylvania is often recognized as the birthplace of covered bridge building. From the 1820s to 1900 there were about 1500 covered bridges built here. Today 219 bridges remain in 40 counties (Pennsylvania has a total of 67 counties). Lancaster County has more than any other county.

(By contrast there are only 6 of 19 left in Madison county, Iowa. You know, the Bridges of Madison County...)


Bucher's Mill Covered Bridge over Cocalico Creek
Built by Elias McMellen in 1881 for $1167 and is nestled among the trees hidden on Cocalico Creek Rd. It was extensively damaged by a flood one year later and rebuilt by McMellen for $1025. At 68 ft., it is the second shortest covered bridge in the county. Location: 1/8 mile east of Highway 272 and Creek Road.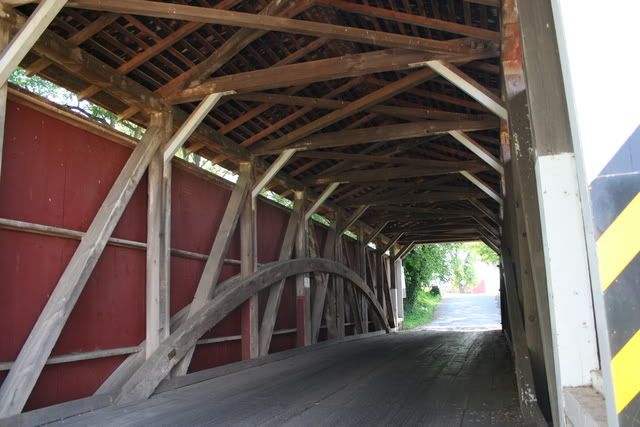 Red Run Covered Bridge over Muddy Creek


Built by Elias McMellen in 1866 (cost unknown). Originally owned by John Oberholtzer, this bridge is variously known as Run Red Grist Mill Bridge and Red Bank Bridge. In 1961 a new concrete bridge was built and the creek rerouted to bypass the old covered bridge. It is privately owned and no longer open to traffic. The nearby campground has used it for church services in inclement weather. Location: 2 miles northwest of Terre Hill on Red Run Road in Earl Township.








Weaver's Mill Covered Bridge over the Conestoga River


Built by B.J. Carter and J.W. Stauffer in 1878 for $1468. It is also known as Isaac Shearer's Mill Bridge and was at one time called White Hall Mill Bridge. The old sawmill on the nearby farm is now used as a chicken house. Nearby Amish use this bridge extensively for their horse-drawn buggies. Location: on Weaverland Road 3.5 miles east of Blue Ball in Caenarvon Township.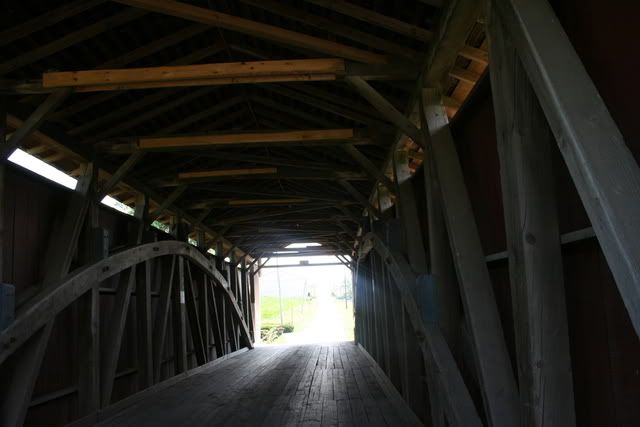 Pool Forge Covered Bridge over the Conestoga River


Built by Levi Fink and Elias McMellen for $1219 in 1859. It was also known as Yohn's Mill Bridge. Bypassed by a new concrete bridge in 1973, the bridge is located on private property 1/4 south of Highway 23 and Pool Forge Road in Caenarvon Township. Historical records tell us that before James Buchanan became the 15th president (and the only president from Pennsylvania), he met his short-term fiance at Pool Forge, but she died before they could be married and he became our country's only bachelor president.

In reading that, I was compelled to look up Buchanan on Wikipedia. What I found was that In 1819 Buchanan was engaged to Ann Caroline Coleman, the daughter of a wealthy iron manufacturer. Buchanan spent so little time with her that conflicting rumors abounded, suggesting that he was marrying for her money, or that he was involved with other women and/or MEN. Buchanan, for his part, never publicly spoke of his motives or feelings, and letters from Ann revealed she thought the rumors to be true. She broke off the engagement and soon after died, Her doctor said that this was "the first instance he ever knew of hysteria producing death," and theorized that her demise was caused by an overdose of laudanum. The Coleman family denied Buchanan a place at her funeral and he vowed he would never marry. He preserved Ann Coleman's letters, kept them with him throughout his life, and requested they be burned upon his death.

However, for fifteen years prior to his presidency, Buchanan lived with Alabama Senator William Rufus King, who later became Vice President under Franklin Pierce. He took ill and died shortly after Pierce's inauguration, and four years before Buchanan became President. Buchanan and King's close relationship prompted Andrew Jackson to refer to King as "Miss Nancy" and "Aunt Fancy," while Aaron V. Brown spoke of the two as "Buchanan and his wife.

Further, some of the contemporary press also speculated about Buchanan and King's relationship. Buchanan and King's nieces destroyed their uncles' correspondence, leaving some questions as to what relationship the two men had, but the length and intimacy of surviving letters illustrate "the affection of a special friendship" and Buchanan wrote of his "communion" with his housemate. Such expression, however, was not necessarily unusual amongst men at the time. Circumstances surrounding Buchanan and King's close emotional ties have led to speculation that Buchanan was America's first homosexual president.

The only President never to marry, Buchanan turned to an orphaned niece whom he had earlier adopted, to act as his First Lady. "I feel that it is not good for man to be alone", he wrote, "and [I] should not be astonished to find myself married to some old maid who can nurse me when I am sick, provide good dinners for me when I am well, and not expect from me any very ardent or romantic affection."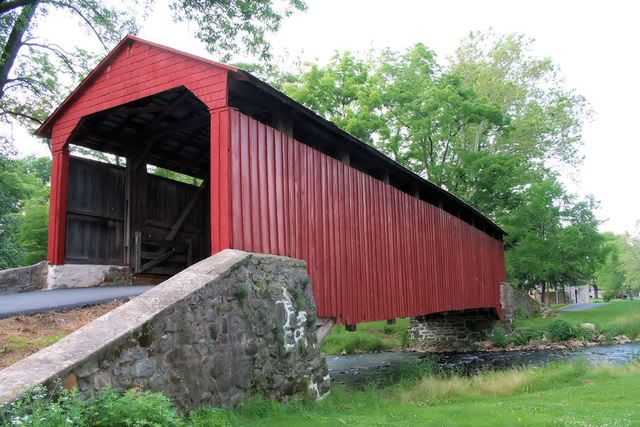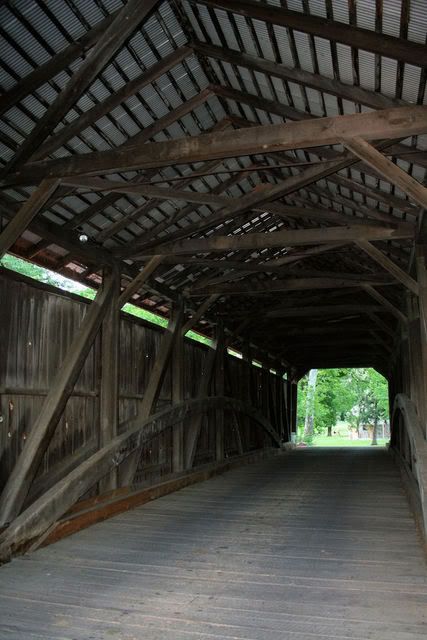 Bitzer's Mill Covered Bridge over the Conestoga River


Built by George Fink and Samuel Reamsnyder in 1846 for $1115. It is also known as Martin's Mill Bridge, Eberly's Cider Mill Bridge and Fiantz's Mill Bridge, all earlier mill owners. Steel "I" beams were installed under the floor to help support the county's oldest bridge still in use. Location: 1.5 miles southwest of Highway 322 and Cabin Road and 1/8 mile south of Cider Mill Road in West Earl Township.