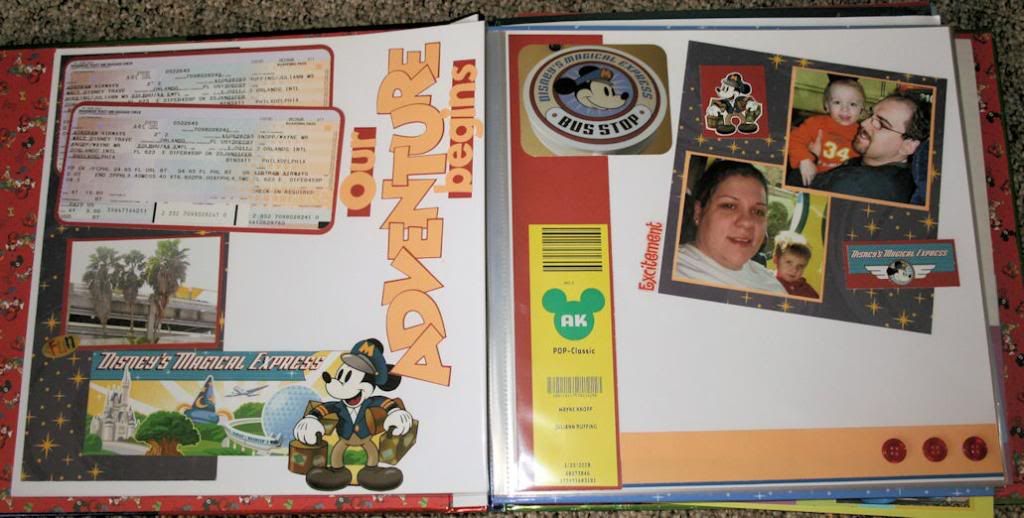 Here I've used the booklet that they send you when you sign up to use Disney's Magical Express and the leftover luggage tag they use to pull your luggage plus the couple photos we took at the airport. It's like the worst picture of me ever but I used it anyway. And our boarding passes filled up a nice chunk of space.
I'm kind of disappointed at the shots I got of me and Andy on Dumbo. Because Andy's so short, you can barely see him. I really like the title and the other stickers I used on this page. I bought a box of vintage stickers in the Emporium on Main Street and had no idea what was inside. Some were totally useless to me (Ichabod and Mr. Toad!) but I really love the yellowish Dumbo one here. Another little annoyance... when Wayne took the photo of me and Andy in the Dumbo that's there for pictures, he cut off half the elephant. I'll train him for scrapbooking photography yet!
What you can't see is that I handwrote "Joey's First Haircut at" in the white oval. I'm not sure I love this title. I may re-do it. This page needs some oomph. More work to be done. However, I love the photos and think they tell a great story.
We had such a great time at the Hoop Dee Doo! It was awesome. The food was great and the corny show had us rolling on the floor with laughter. I wanted to try to convey the high energy and excitement of the show and the fun-ness (is that a word?) and I'd been holding on to this bandanna paper forever.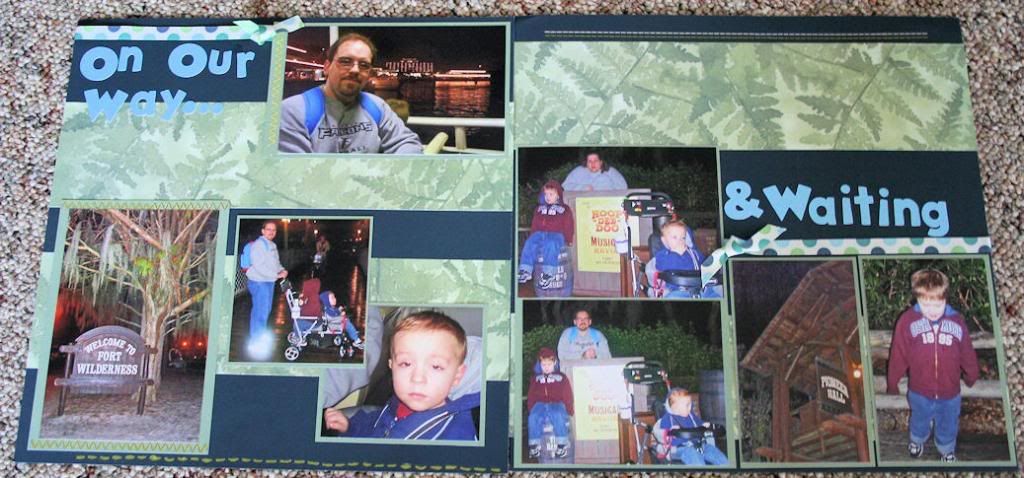 Kind of a strange one... I like the layout but it was difficult to do because these are pictures taken on our trip over to Fort Wilderness and while we waited for the Hoop Dee Doo to start. It was 9 o'clock and Joey was sleepy. And then there's Wayne's crazy reflective shoes...I have no idea what's up with them.
Pictures from our resort: Pop Century. Just colorful and fun.
I normally wouldn't cut a picture out like that can-can dancer up top but the background was so distracting that it felt like my only option.
I've gotten a few layouts 85% done... the missing 15% is the journaling. I've left room but need to decide if I'm going to handwrite it or type it. I'm leaning toward type because it's neater but handwriting is so much more personal. Shrug. I took the photos in a hurry so some of them are a little blurry. I'll reshoot when I add the journaling.