Wayne and I went to Jersey this weekend to go to the Falcons v. Giants game yesterday. I'd only ever been to college football games at NU and NFL games at the Dome in Atlanta where the jerseys we wear are in support of the home team. I knew that Jersey/NY fans were hardcore from the couple of times I went to Penguins games at Continental Airlines Arena. I don't think that I'd mentally prepared enough for what it was like to face Giants fans while wearing a Falcons jersey.
There were four of us-- three in Falcons gear and Ferris, a little confused in a Giants' jersey and a Bears hat.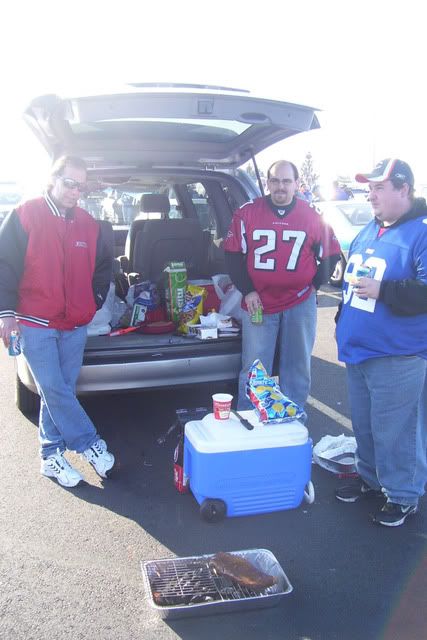 Anyway, I expected smack talk before the game and it started instantly. As soon as we got out of the minivan and started setting up our stuff, the guys from the car across the aisle started it up.
"Man, now we gotta deal with effing Falcons fans ova heah? F****** incredible!"
We ignored it and enjoyed our little tailgate. Did I expect my Jersey-ness to radiate off my skin like some kind of protective bubble? Maybe. We set up our ghetto grill (a disposable pan with some charcoal and a couple of cooling racks as a grill surface) and some meat was cooked to an edible doneness. None of us were thinking about heat going in the other direction: down. We created a melted asphalt pothole in the parking lot. OOPS!
(
Collapse
)