November 23rd, 2009
There were four of us-- three in Falcons gear and Ferris, a little confused in a Giants' jersey and a Bears hat.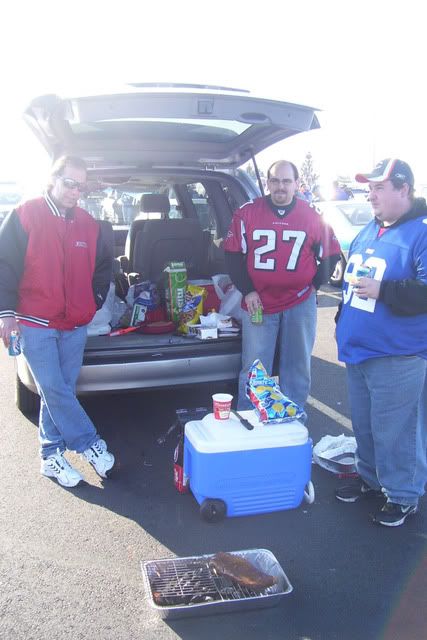 Anyway, I expected smack talk before the game and it started instantly. As soon as we got out of the minivan and started setting up our stuff, the guys from the car across the aisle started it up.
"Man, now we gotta deal with effing Falcons fans ova heah? F****** incredible!"
We ignored it and enjoyed our little tailgate. Did I expect my Jersey-ness to radiate off my skin like some kind of protective bubble? Maybe. We set up our ghetto grill (a disposable pan with some charcoal and a couple of cooling racks as a grill surface) and some meat was cooked to an edible doneness. None of us were thinking about heat going in the other direction: down. We created a melted asphalt pothole in the parking lot. OOPS!
(
more here, clicky clicky
Collapse
)
Wayne and I went to Jersey this weekend to go to the Falcons v. Giants game yesterday. I'd only ever been to college football games at NU and NFL games at the Dome in Atlanta where the jerseys we wear are in support of the home team. I knew that Jersey/NY fans were hardcore from the couple of times I went to Penguins games at Continental Airlines Arena. I don't think that I'd mentally prepared enough for what it was like to face Giants fans while wearing a Falcons jersey.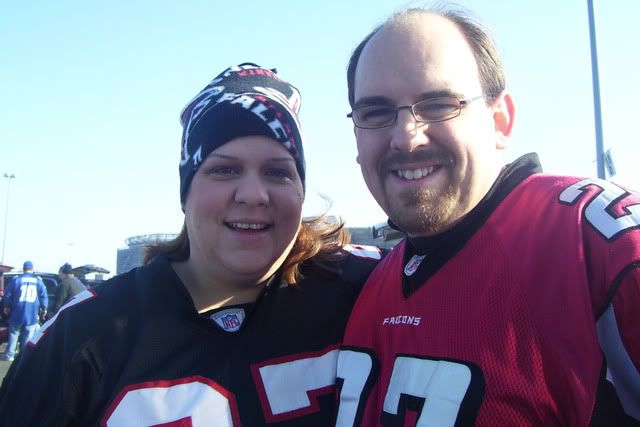 Forgive me, but it was REALLY cold. This is a horrible representation of me.
When we got to the section where we were sitting, Wayne and I both started welling up a little. You have to understand that Wayne lives and breathes Falcons football. It is his passion. He knows all there is to know about his team and win or lose, he loves and supports them. (He's kind of like that with everything he cares about, now that I think of it! : ) ) This is the first game he's gotten to attend in two seasons and my friend, Maureen, hooked us up with her season tickets and the seats were amazing; the best he's ever had,
The game started with the Falcons up by three and people were starting to complain.
Observable difference #3: Giants fans instantly turn on their team where the players drew a penalty or screwed up the play. That doesn't happen in Atlanta that I've seen. Hell, there are still a lot of Atlanta fans (none that I know personally) who defend Michael Vick!
That was one of the most ridiculous insults we faced during the game, at the end when the Falcons tied the game up, sending it into overtime, a guy two rows ahead turned around and looked at me and said, "Where's your Michael Vick jersey." I looked at him confusedly and said, "Um, he plays for the Eagles." Ferris piped in and said, "My dog ate it" and everyone around us laughed. Wish I had thought of the better punchline!
The Giants won the coin toss and got the ball first in overtime. At that point, I knew it was over and that we weren't leaving winners. That's probably a good thing considering how we were treated as we were leaving.
Several guys felt the need to say "Falcons suck" or some version of that sentiment as they walked past us to leave. As we were walking through the concession area, a group of drunken frat boys were chanting versions of 'Falcons suck' and 'Falcons fans suck.'
We went down the escalators to the parking lot level and this total NJ stereotypical guido with a manscaped goatee and the ear stretcher piercing got all up in my face-- like literally six inches from my nose- and clapped at me, again with the "Falcons suck" singsong taunt. Wayne was pulling me along to ignore it but my big mouth had to get involved and ask, "Is it your lack of a dick that makes you act like that?" and then I promply stepped off a curb I didn't see and stumbled.

So stupid.

We made it back to the van and cooked again to wait out the emptying of the parking lot and that was when I saw the most disgusting display of asinine behavior.

Two Indian guys were walking through the parking lot. They were wearing Giants gear and carrying a poster and program. Some idiot drove past them in a van with Giants stickers and stuff on it, wearing a Giants cap. He stopped with the traffic, leaned out his window and said to the Indian guys-- who were there supporting the same team-- and said, "Get the f*** out of here, you f***** terrorists."

Insane.
I have to fess up to a little dorkiness. I mean, aside from wearing this hat in public.