January 20th, 2009
Alone

O! I care not that my earthly lot
Hath — little of Earth in it —
That years of love have been forgot
In the fever of a minute —

I heed not that the desolate
Are happier, sweet, than I —
But that you meddle with my fate
Who am a passer-by.

I heed not that my founts of bliss
Be gushing, oh! with tears
That the tremor of one kiss
Hath palsied many years —
'T is not that the flowers of twenty springs
Which have wither'd as they rose
Lie dead on my heart-strings
With the weight of an age of snows.

Nor that the grass — O! may it thrive!
On my grave is growing or grown —
But that, while I am dead and alive
I cannot be, love, alone.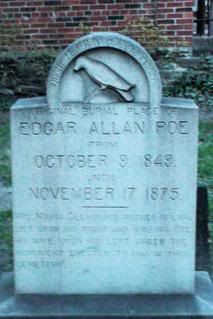 Happy 200th Birthday, Mr. Poe.
Mysterious Poe 'toaster' returns to writer's grave
The Associated Press

8:33 AM EST, January 19, 2009



BALTIMORE - To mark the 200th anniversary of writer Edgar Allan Poe's birth, a mysterious visitor again placed three red roses and a half-filled bottle of cognac at Poe's grave in Baltimore before quietly slipping away.

The curator of the Poe House and Museum, Jeff Jerome, said about 50 people waited outside the cemetery of Westminster Presbyterian Church, hoping to catch a glimpse Monday of the elusive man known as the "Poe toaster." The man returns each year in the early morning darkness on Poe's birthday.

Jerome says the visitor did not leave any note, not even to comment on the milestone anniversary. He adds the crowd was smaller than he expected and was better behaved than the rowdy groups that have attended the vigil in recent years.


I feel a weight lifted. It's 45 minutes into the Obama presidency and I feel lighter though nothing has yet been done.

The speech was wonderful. It was direct and pointed at the times, inspirational and, I think , that like most of Obama's big speeches, it gave hope and also indicated that we, as Americans, have a responsibility to ourselves to make things better than they've been.

I wish I had a glass of wine to toast to the new era of American greatness.
I just came back to the computer after gathering in a large classroom to watch the inauguration together with students, teachers and administrators. We had some disappointing technical glitches but I was moved by the rapt attention paid to the projection on the wall. Some, like me, had quiet tears rolling down their faces. Others watched with this intent and focus.