Thanksgiving
I had a fairly calm and relaxing afternoon as most of the food was pre-made and just needed finishing touches and reheating. It was very unlike Thanksgivings at my Aunt Anne's house where everything is crazy and rushed and tempers flare. I just kind of hung out talking to Wayne and Steve, waiting for that last hour when everything needed to be popped in the oven. Four o'clock was kind of hectic because Wayne's family arrived and I was trying to get them to eat the appetizer stuff and sit, blah blah blah, while finishing up and plating all the food.
We ended up only taking a few pictures... and most of them aren't shareable, but here's a couple stupid things.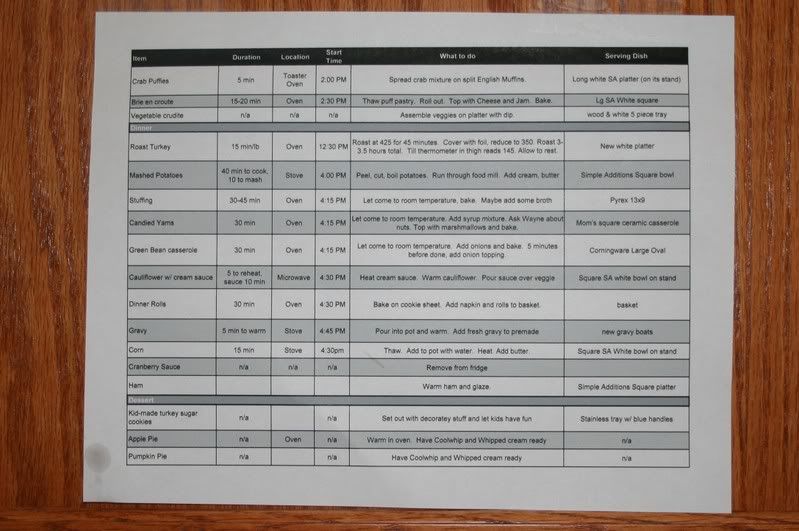 My dorky spreadsheet of things that needed to happen, when and where, and what dish stuff ended up on. Can we say "obsessive-compulsive?"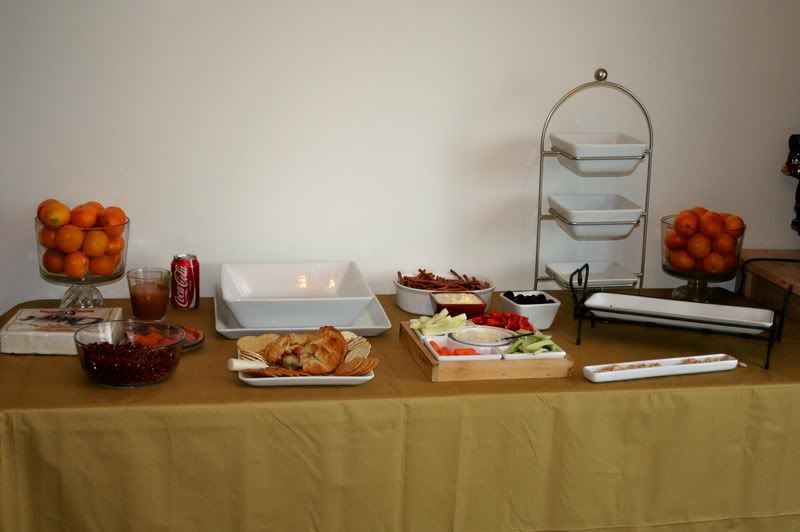 This is the buffet table with appetizer-type stuff on it. Nothing fancy. Oh, and some empty bowls that were filled with stuff later.
I kind of rushed through my own plate of food to deal with other stuff, like kids and stuff other people wanted/needed, but that way okay. I also discovered that my laundry sink, right off the kitchen, is perfect for stashing large dirty dishes to be dealt with at a later time. I thought I was going to run out of certain foods but instead I made way too much. My turkey was moist and brown and awesome. I got a lot of compliments. The side dishes were okay except the greenbean casserole. It was a little too liquidy and the beans were still too crisp.
The ONE dark spot of the day was Wayne's brother. He has issues and has always been weird to me but I think he was just flat-out rude. He didn't bother to say hello, or anything to me all day. He ate and then sat at the table quietly and left right after dessert. I don't know if he's still ticked off that I left him a voice mail chewing him out for some stupid bulletin he posted on myspace where he responded to a question about family in a survey where he called Wayne an asshole. Whatever.

Black Friday
Wayne and I braved the stores early with ALL FOUR KIDS. We must have been out of our minds. We made it to Circuit City (only Wayne went in), AC Moore (all 6 of us and 2 carts), Toys R Us (all 6 us) and Best Buy (just Wayne). We're pretty much done with the kids' gifts. We haven't even contemplated other people yet. We got quite a few things for ourselves too, like nifty little MP3 players. The kids were actually pretty well behaved and not completely whiny.
We came home and goofed off for awhile, cleaned up, let the kids nap and had leftovers for dinner before having to head out to drop Wayne's kids off with their mother. It was a quick exchange and we headed back home, put the boys to bed and vegged out with some Food Network.
Saturday
The boys were crazy and I was psyched to drop them off to their dad. We had to be at his job at 5:30 to drop them off. Steve had had car trouble and we were going crazy trying to come up with a solution that left everyone with suitable transportation. Wayne and I had dinner at Red Robin and then drove back to Reading to see
Enchanted
. I'll review it later. Leaving the theater, Miss Kia wouldn't start and we ended up calling AAA only to find out we were out of gas. Duh! Oh well, we're still learning the quirks of the minivan. I still can't figure out where to set the heat to be comfortable or how to deal with the door lights.

Sunday
Woke up late Sunday morning and listened to how quiet it was in the house for awhile. Got up and went to pick out a Christmas tree at the tree farm. I've never had a real tree before and I've always wanted one, so this was a pretty exciting trip!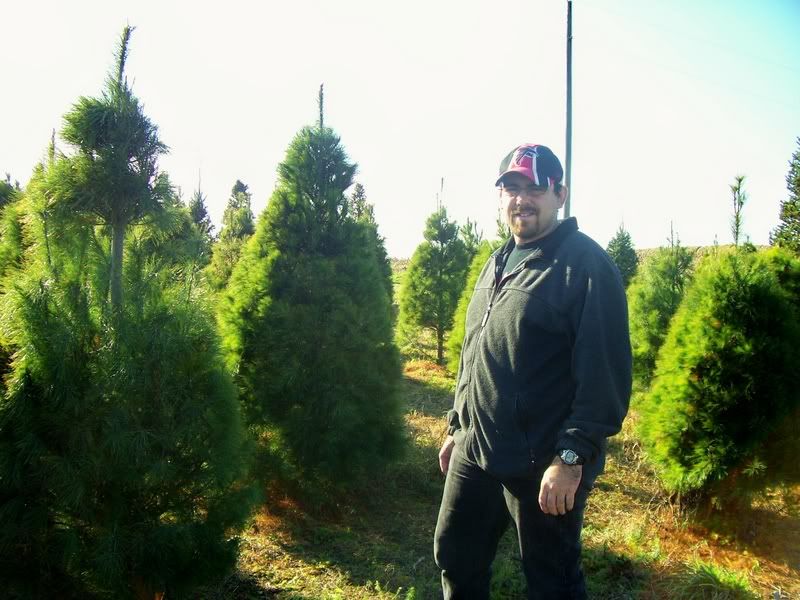 Hey! Look! It's Wayne at a tree farm!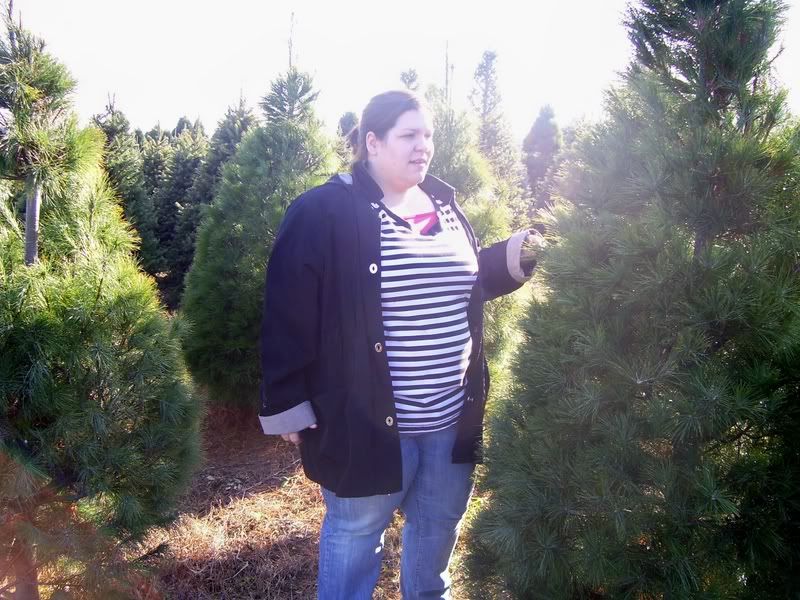 I'm there too! And I look like crap!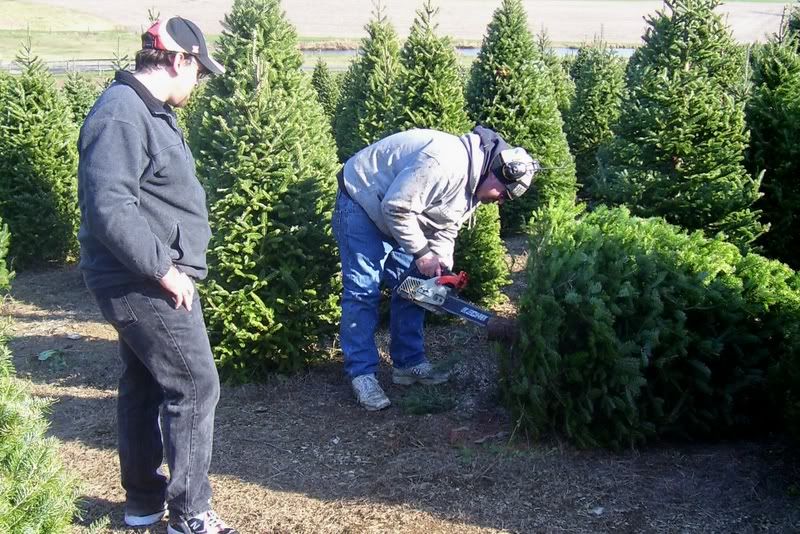 Our tree's death scene!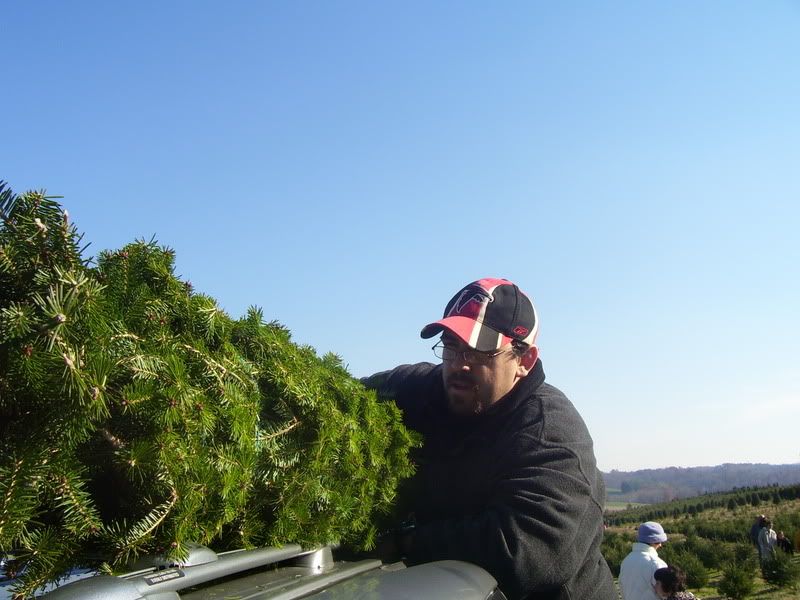 I'm so helpful! Wayne is climbing on the car to tie the tree down and I'm taking pictures. :)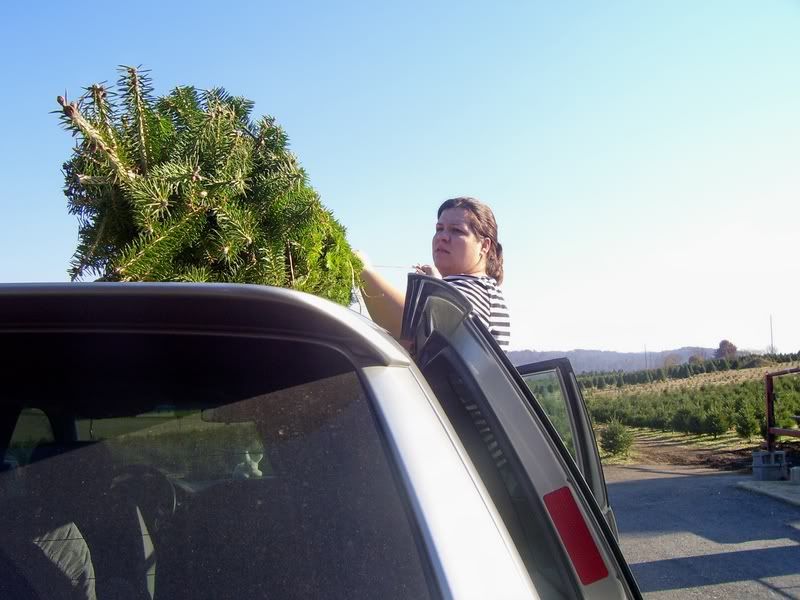 I helped! See?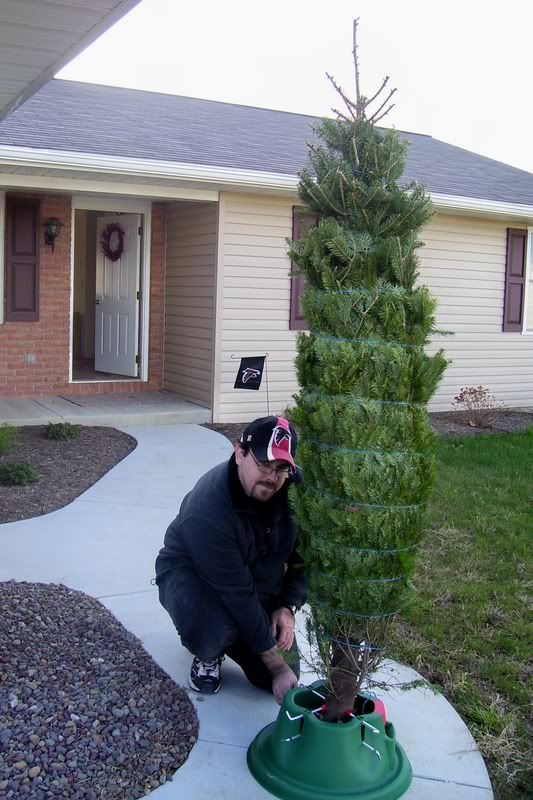 Setting her up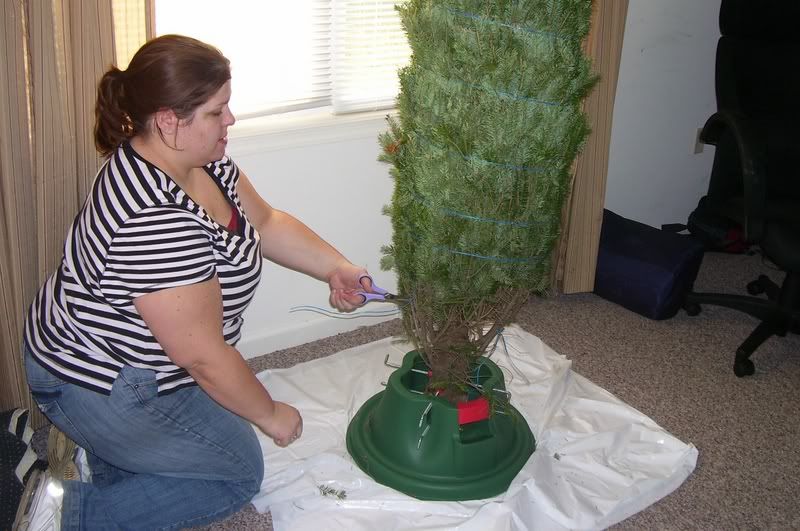 I cut the twine holding her all tight.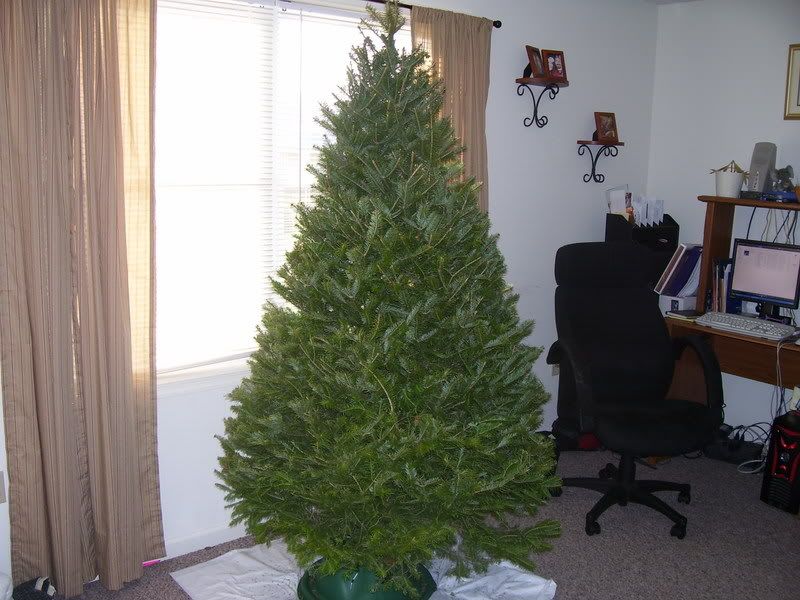 And there she is!
After buying the tree, we stopped at this place near the house called 'Murdough's Christmas Barn'. It is a barn filled with more Christmas decorating stuff than anywhere else I've ever been. It was huge and overwhelming and very cool. We bought some ornaments and an adorable Nativity scene. Later in the day we went to dinner at On the Border, for chain Mexican and we really enjoyed it. Live Guacamole was awesome. I continue my love affair with the avocado. We did a little more shopping and then went to see Beowulf, which I will also review later.
Monday

I was up at 4:30 a.m. and left right away to pick up the boys when I noticed it was raining outside. Despite leaving early and not having to stop for gas or anything, I was still half an hour late picking up the boys. Grrr. It was pouring rain and traffic and visibility were bad. It sucked. So there was no time for chit chat or anything because Steve was late for work. His car was fixed, by the way. I went from Steve's work to my parents' house in Newark. Hung out there for awhile. Met my best friend of seventeen years, Maria, for lunch. There was much laughter and catching up. She's only in town until today, and then she heads back to the hinterlands of Wisconsin.
I left Newark early because of the weather and headed home to the farmland of Pennsylvania. The nightstands we ordered arrived yesterday and if the kids cooperate, I will put them together before Wayne gets home from work. I also need to rearrange the garage a little bit and put away my china until Christmas. I'm still recovering from Thanksgiving. I still have some things to put away and we still have leftovers. I think tonight we're having turkey soup for dinner. Yum.