Went to Target last night and got some decorations. The rest of my decorations are still in Keansburg and I'm gonna have to dig em out...
Got a wreath of black velvet roses for the front door (which is kinda cool since Wayne's consulting biz is Black Rose Consulting...) and two gargoyles for the front porch: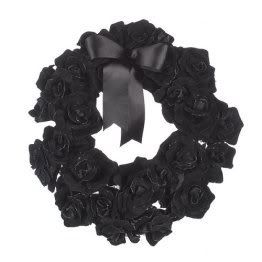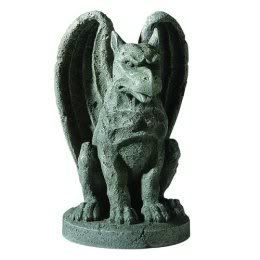 I want to get some stretchy spiderwebs and we'll probably throw some pumpkins/jack-o-lanterns out there too. Got a pumpkin carving kit. :) I think I might get some of those carvable papier mache ones from Michaels so that if I go through the hassle of carving a cool pumpkin, we get to keep it. Maybe something lit up? I dunno. I'd really like some tombstones for the front yard. I think I'll wait until waaay late in October or after Halloween and see what I can snatch up on clearance. Or with coupons from the craft stores. That's a thought. I just don't want to be one of those nutty people who go all out with the decorations for every holiday like Arbor Day and Sweetest Day. I think Halloween and Christmas are the big ones. Maybe Easter... :)
Also got a nifty floor lamp for the dark corner of the living room, some clothes for Andy and cloth pumpkin candy bags for trick-or-treating. Wayne ran into Home Depot for a set of socket wrenches and peg board for the garage.
Oh, crikey, I almost forgot to mention dinner last night. I'm on this pledge to try two new recipes a week since I'm really bored with eating the same old stuff all the time. So yesterday I made Italian Wedding Soup. I made 150 teeny tiny meatballs (really, I counted). I chopped a mountain of veggies into really small pieces. It looked and smelled wonderful until I got to the last part, where you add beaten eggs to the soup to add "richness." Now, I'm no novice in the kitchen. I made a liaison with the eggs and the soup to bring the eggs up to temperature so they wouldn't turn into scrambled eggs in the broth. I added them slowly. I whisked. What happened? Little tiny chunks of scrambled egg. Grrrr. It made my soup ugly. We ate it anyway and it was tasty.
While cleaning up from dinner , I decided to puree it. Now it looks better. Hee hee...
Preparations have begun in earnest...