Busy, busy weekend as usual except now that I'm thinking about it, I didn't do much of note.
Friday I was all excited because some clothes I ordered from Torrid.com came in the mail.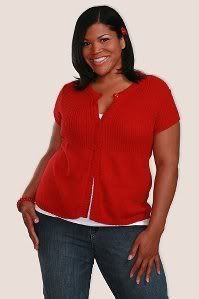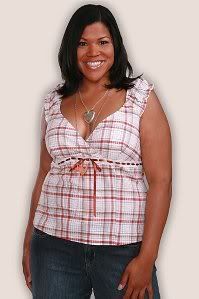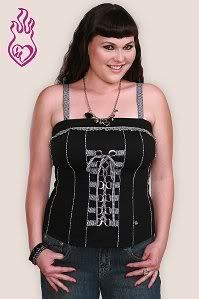 The red sweater is pretty demure, so I'm psyched to wear it when it starts to cool down a little. I wore the plaid top on Saturday and loved the way it looked on me. The black corset top I got especially for the Bon Jovi concert in November, but I'm sure I'll wear it before then. I'm going to bring it with me to Chicago next weekend just in case I want to wear it. :) I love Torrid... it's plus-sized stuff but a little more trendy than Lane Bryant. Did I mention I got this stuff on clearance and it was like $45 for all three tops? Woooo hooooo.
Back to my weekend...
There was more house cleaning and organizing. There was lots of kids running around yelling, being cute, falling down and stuff. Saturday morning I dyed my hair back to it's natural shade of brown. Well, maybe not quite my natural shade, cause there's still a lot of red left in this color.
Also, Saturday the boys were dropped off and there was a stop at Ikea and then at Hooters for some wings and stuff. I felt a little weird taking kids into Hooters but it seemed like every table had kids at it once we were inside. Shrug. Whatever. Got home and watched a couple episodes Ghost Hunters on the DVR. I'm not watching a lot of TV lately. Between my Guitar Hero addiction, having stuff to do and the kids, all my tv has been coming in the form of stuff recorded on the DVR like my episodes of Big Love and Ghost Hunters. Maybe that's just because it's summer rerun season? Dunno...
Sunday I was supposed to go see Stardust but it's not playing in a lot of places and where it was playing didn't coordinate with our schedule for the day. So Sunday morning we put together the stuff we got at Ikea the night before. We had to bring Wayne's kids back to their mom. We planned to go out to a hibachi place with them before we dropped them off. Unfortunately Lexi was tired and freaked out in the restaurant. So that didn't go well. We dropped them off at their mom's and hung out there for awhile. We loaded up Miss Kia with the last of Wayne's stuff from the house (short of the big home gym which is gonna be kind of a pain to take apart and bring here). It's out in the garage right now waiting for me to go out and clean it/go through it before bringing it in.
Oooh, I took pictures of Miss Kia to post here too.
That's my weekend.
Monday morning and one cup of coffee has already been downed. I have stuff to do today and swear to myself I'm not going to keep my ass parked in front of my laptop for very much longer.
Current Mood:

energetic