So we piled in the car and gave the line one last drive-by. We gave the photos of the Quick Stop I had printed out for signing to the people we were standing with and asked them to email us and let us know when they got in and how it went. You know, so we could live a little vicariously.
So, here are some pictures of the line...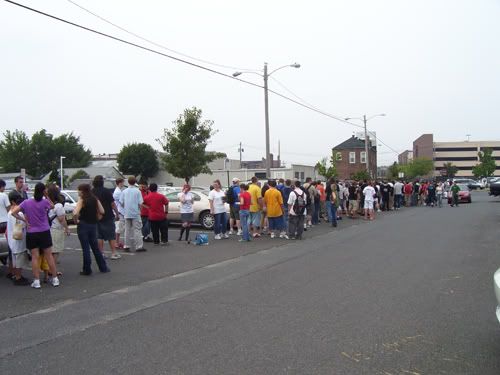 This is the line in front of us, well, part of it. The line went the length of this parking lot up to that red brick building in the top of the picture. There it hooks a left and goes aallllll the way up that block and then turned the corner onto Broad Street. I figure there were like 800 to 1000 people on the line.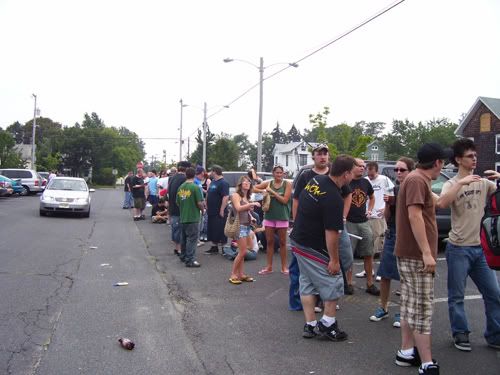 These are the people who got in line behind us.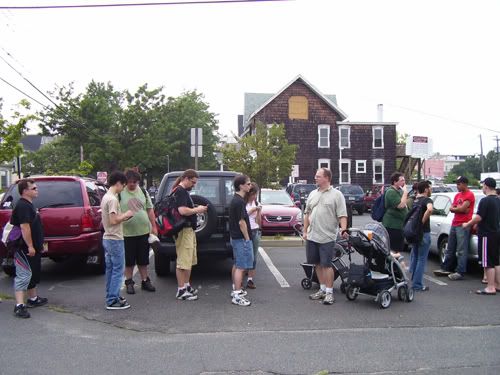 Here's Steve and the little guys in the line. Notice the dude in the red tee shirt and hat in front of Steve. We chatted a lot with the brother and sister behind us. (I didn't catch their names because I suck. I think the girl's name is Christine. I'm probably wrong.) The guy in the beige shorts and black shirt with the pony tail we called "Bucks County" cause that's where he is from. We gave him our 5 photos to distribute as he saw fit.
So we came home and I'm disappointed but tired. I got back on the computer after Steve got up to go to work and decided to check the web cam in Kevin Smith's store to see if he is still there. Low and behold the screenshots: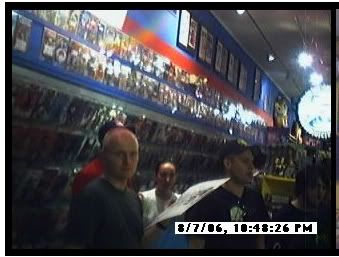 Red tee shirt guy and the guy in front of him-- the bald looking guy in the black tee shirt-- he's holding one of MY photos of the Quick Stop!!!!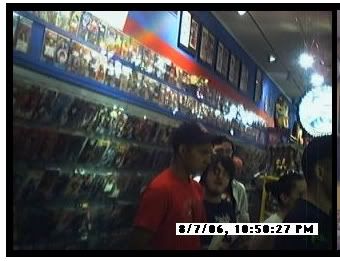 Ha ha ha-- it's red tee shirt guy who was standing in front of us in line. We would have been waiting there until 11 pm. I'm sad that we left, but I don't think I could have lasted that long.
I picked EXACTLY the right moment to check the web cams.
Steve got home around 2 and we packed the kids up in the car and drove over to Red Bank. We stood in line from 3 pm to 8 pm. Five hours in the crazy August sun with two babies. I finally decided to give up and leave the line when the boys started to fuss and Steve started to fall asleep standing up amid the throng. So, alas, no, I did not get to meet Kevin Smith and for this, I am sad.
Current Mood:

disappointed